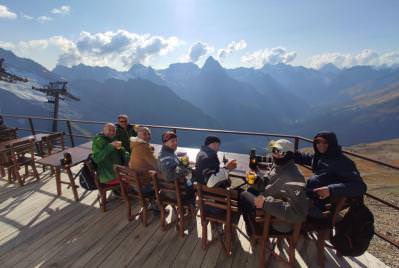 We have been thinking for a while about the idea of creating a WhatsApp group for our guests and friends, to talk and discuss various questions related to motorcycle travelling in Russia. Help and support you in self-guided or solo trips through Russia, post news and updates. Website and social networks are good, but almost all of us use messengers and it is more convenient for many.
If you are in Russia with a bike and need some help you can ask for it and get instant reply, service station in Moscow, transport company in Vladivostok, see freight in Magadan, whatever. If you are in Moscow or Sochi and want visit our office and meet us for a glass of beer – drop a short message and we can set time and date for meeting.
And of course, you can quickly get updates from us, monthly newsletters, announcements of new tours, new articles or publications, so that nothing is lost.
Last year we thought to make a closed group in WhatsApp, but after better examination we think its better to use Telegram. In latest we can make open group that you can find in search and join on your own. Not like a WhatsApp by private link.
Also Telegram keeps better quality of pictures and its 100% secure and encrypted, not like WhatsApp that send your data to Facebook for marketing/ads purposes.
Recently we have created such group, please feel free to join us, link is https://t.me/rusmototravel_public. Please be aware that there are mostly Russian riders right now, but we speak English, German, Spanish, so don't hesitate to ask your questions with your native question.