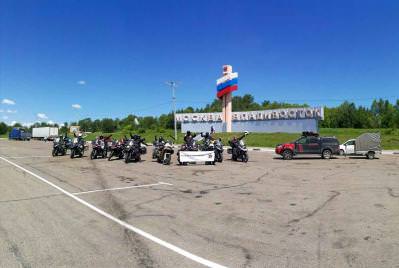 Last week our June 2019 Moscow-Vladivostok tour successfully finished
25 days
10 000 km
15 people (including guides)
13 motorcycles + 1 support car
12 hours of rains during all tour
0 technical issues
2 tire punctures (same bike)
Average temperature +20-25
How was it? Really fantastic ride, amazing journey. Sure, it was not easy ride, especially for the older riders, but that was worth it. After reaching Vladivostok all said that was something special, memorable, brightest travel even, once in a lifetime adventure.
So who was in the group? Who are these heroes??
Three riders from USA, Dale, Donalnd and Michael, with Dale and Donald being 83 years old (its fantastic, wish we would be able to do such tours in that age!!!)
A couple from Netherlands, Anton and Ali
Anna from Finland
Three guests from Germany, Torsten, Reiner and Karl
Marco from Italy
Michel from Canada
You are fantastic team, THANKS for coming to Russia. It was great honor to be your guides. And thanks for warm words and feedback after. Here are some examples of what guys said:
Hello Russian Motorcycle Gang!!!
That was a fun ride and it was really fantastic to meet so many wonderful people!!! You guys Rock!!!
Got your Numbers, May be looking for a beer in the next month!!!
Cheers
M
Great ride, greater fellow riders. When all the stars line up, life is perfect. Wishing Michael more landscapes until his eyes (or his heart) fail him. Anna, you are my hero for having the courage to leave your old situation behind not knowing the future. Not sure if I could have done it.
D
Hi everybody!! Being at home now and having a first look through the photos I start to understand what a great time I had with all of you wonderful persons. There were amazing cities, good and bad roads, nice landscapes and beautiful landscapes but what made it special was your company I enjoyed very much. A big thank you for this to all of you!!! To Dale and Donald: You are my inspiration, if I will be that young at heart at 83, I made it!!! Hope to see you somewhere at sometime 
T
See you soon friends!!!
p.s.: This year we will run several more tours, for example 1-25 August Vladivostok-Moscow and 18th August - 11th September Moscow-Vladivostok. And for sure more dates are available for 2020. Full tour description with itinerary, what included and not you can find here - https://rusmototravel.com/tours/moscow-vladivostok-trans-siberian-tour-m...
Our up to date calendar available here - https://rusmototravel.com/calendar