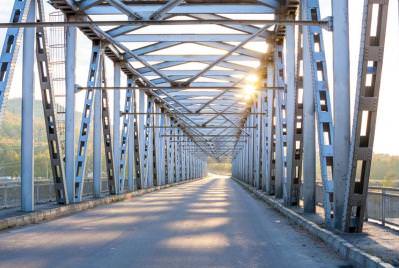 This route goes along the world famous Trans-Siberian railway line. Originally built between 1891 and 1916 under the supervision of Russian government its longest railway line in the world, connecting Moscow with Vladivostok since 1916, and is still being expanded. Even before it had been completed, it attracted travelers who wrote about their adventures.
Today many people travel this road by train, but we offer you something special – a motorcycle tour over the Trans-Siberian route.
This tour is not something very ordinary. It's one of a lifetime adventures. 10 000 km, 29 days, you will pass eight time zones and ride through all the European continent till the Far East.
For many years it was extremely difficult and dangerous to travel over the Trans-Siberian route for foreign travelers – large segments of road were unpaved, there were no support in Siberia in terms of spare parts, service stations, and emergency help. It was difficult and expensive to organize your bike shipping to Russia, and there were no companies in Russia to rent a bike. But this situation is changing and today travelling over the Trans-Siberian Route becomes much more affordable.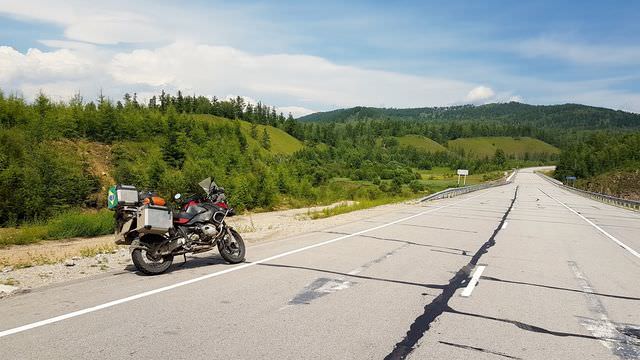 There are several options to ride the Trans-Siberian road today:
You can ride on your own bike if you are experienced enough to pass all logistics and border crossing issues with international delivery and the prices seems not skyrocketing for you (or you live in Europe somewhere not far from Russia and you ride on your own bike from Europe).
You can rent bike with Rusmototravel and get full assistance with visa, hotel booking, informational and technical support along the way.
You can join one of our groups for this trip. In 2017 we have a confirmed tour for the end of July (20th of July – 17th of August). The group is almost full, there are just two places left, so if you are interested hurry up. We can also do one more Trans-Siberian tour at the beginning of June if there are at least four people
The road from Moscow to Vladivostok today is fully paved. The quality of asphalt is high, so there is no problem to ride even on Harley (though in Russia adventure bikes like BMW GS, KTM Adventure, Honda Africa-Twins, Yamaha Tenere and others are the better options).
The Trans-Siberian road is one-way only. There is no return road. The return trip is possible only if you go back through China, Mongolia, and Kazakhstan, but China is a closed country at the moment (you need a local driving license and guys to ride in China, it's possible to do that, but it's very tricky). So your final destination most probably will be Vladivostok, the Russian city on the Far East. From there it's necessary to ship bikes back to Moscow by train (10-14 days, the price is 500-800 EUR) or by sea to Japan, Korea or USA/Canada.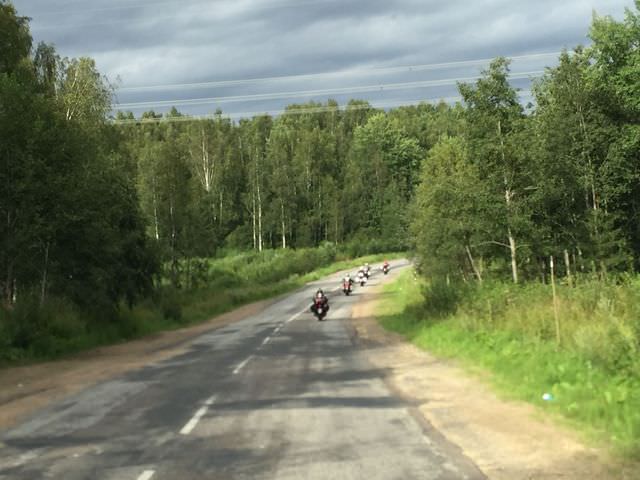 If you plan to ride only the Trans-Siberian route than renting a bike in Moscow is the best option. You can just drop them in Vladivostok and fly back home. You don't have to spend two weeks in Moscow waiting for your bike.
In 2018 we are going to do the Trans-Siberian tour four times: the first one runs before the end of May and the last one in the second half of August. Schedule for 2018 will be published soon. If you have interest, please write us in advance. If you want just to rent bikes, we can assist you with this as well.
Price for this tour is 8750 EUR, and it includes everything except dinners and your flight to Moscow (we start in Moscow). If you ride your own bike price will be 6000 EUR.
You can see more details and tour itinerary here - https://rusmototravel.com/tours/trans-siberian-tour-motorcycles-10000-km-once-lifetime-adventure