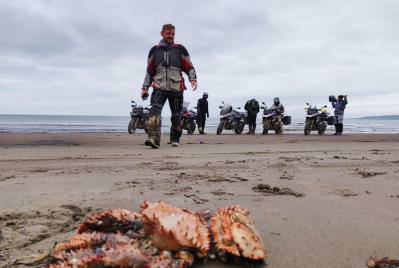 Ok, lets start with reports from tours we did in 2022. There were many of them, they were exciting, and we have many materials to share with you. First are photos from second Vladivostok-Sakhalin tour, which took place on the 1-12 August 2022.
In general, this tour, who would have told us a year ago that we would do such a thing, so this tour was a dream. It was born from brave idea and some courage. Sakhalin on motorcycles, why not? Far from Moscow, long, expensive and difficult in terms of organization, but we tried and everything worked out.
We hope that in the future we will be able to combine Sakhalin tours with the Trans-Siberian Tours, so that in June we do Moscow-Vladivostok and bring bikes, support vehicle with a trailer, spare parts and tools, and our guides to Vladivostok. We do a few Vladivostok-Sakhalin tours and return back to Moscow with Vladivostok-Moscow tour. That is perfect plan.
But this year we sent everything to Far East by transport companies and we drove car with trailer on our own.
But all worked well and we want to say thank you to everyone who participated in our 2022 Sakhalin Tour.