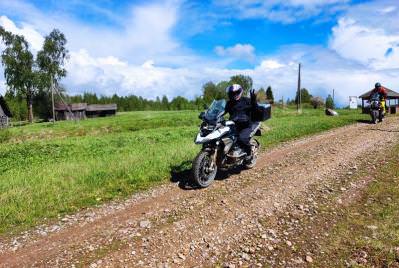 One month left before new tours on 2023 riding season will start, first will be Turkey and Morocco, and we still have 18 ride/photo reports from last year not posted. Seems to be that we need to speed up a little bit and publish all materials before the end of winter.
Today we want to share some photos from our 3-day weekend tour Moscow – Smolensk. It was May of 2022, group of 8-9 riders, including three girls, which is always nice.
The itinerary of the Smolensk tour has several sections of gravel roads, not long and not difficult, but its always small challenge and fun, especially if its rainy weather. Most memorable moments, especially when someone ride street motorcycles on regular asphalt tires.
In this weekend motorcycle tour, we focus mostly on history, museums, visit Borodino and Flenovo, drive along the Old Smolensk Road, with a guide walk around Smolensk itself.
This year we have one Smolensk scheduled for 26-28 of May 2023, if by any occasion you will be in Russia, please join us.