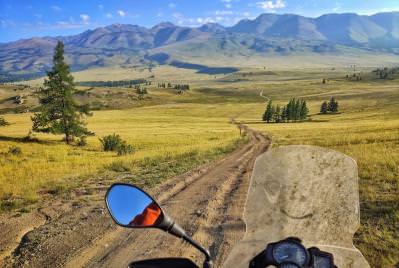 What tires we use in our tours? And what are the best tires for travelling in Russia?
Last question is philosophical and has no single answer. Of course, it all depends on how you plan your route, whether you will have mostly asphalt or at least 10-20% of gravel roads, and if there are gravel roads, what kind. But in any case, it is worth discussing general things in order to avoid the simplest mistakes.
To begin with, it should be said that today there are many types of motorcycle tires today and every year manufacturers present new models. The main struggle, oddly enough, has unfolded in recent years in the adventure touring market, which is where we are located, with more and more companies trying to offer travelers universal tires for both, asphalt and gravel roads.
There are types of tires in the world:
For paved/asphalted roads, for example Michelin Anakee 3, Metzeler Tourance, Heidenau K76, Mitas E08, Continental TKC70, etc.

Good grip on asphalt in any weather walks for a long time (12-15 thousand km), a small hold on the ground, you can drive on dry, and problems begin on wet ground

Off-road tires, for example Michelin Anakee Wild, Metzeler Karoo 3, Continental TKC80, Mitas E09-1. 

Good grip on the ground, it wears out quickly on asphalt (4-7 thousand km), not intended for driving at speeds over 120 km/h, slippery on the asphalt in wet weather, because the grip is small

Universal tires, manufacturers include here such models as Michelin Anakee Adventure, Metzeler Karoo Street, Bridgestone Battlax Adventurecross, Mitas E07 +, Heidenau K60 Scout

. 

Good grip is declared, both on the ground and on the asphalt, it walks 10-12 thousand km, keeps high speeds better.
So what kind of rubber should be used for travel, for a trip to Altai or through Moscow-Vladivostok?
As you might guess, we are faced with a very simple choice:
1) Take a good asphalt or off-road tire and sometimes carefully use it for other purposes, use asphalt rubber on the ground or, conversely, use off-road rubber to drive around some paved roads
2) Set yourself something universal, like Mitas E07+
3) Have two sets of tires and change them according to tour conditions
We don't want to analyze each type of tire, make comparative tests, etc. There are many articles about that in the internet, there are many experts in this. Instead, we will tell you what we decided for ourselves, what kind of decision-making logic we have, and what kind of tires we use.
If we go on a Moscow-Vladivostok tour, we put on the Metzeler Tourance or use the Michelin Anakee 3, the standard tires found on the new BMW GS. Although from this year, Bridgestone seems to have been put on.
If we are going to Magadan, Pamir or Dagestan, our choice is Michelin Anakee Wild, Metzeller Karoo 3, Continental TKC80.
For all other tours, where there are some gravel sections/roads, but not very much, and it is not very difficult type of gravel, no sand, no mud, we use universal tires. We use Mitas 07+ and Haidenau K60 Scout.
Why not always ride all-purpose/universal tires? We are heading for this; we just haven't found our ideal tire.
Haidenau K60 Scout is slippery in the rain on the asphalt, makes noise at certain speeds, a little oak, for the ground there is no grip on the center rear tire. But it walks for a long time, almost 15 thousand km.
Mitas E07+ grip on wet asphalt is better than that of the Haidenau, and the grip is better and the tires are softer overall. But with Mitas we have a problem with almost 20% of tires – low pressure in the tire after 5-7 days of no ride. Bike can be in the garage between tours or at the hotel parking and tire loses 0.5-1 atmosphere. Maybe this is, of course, a coincidence, but for some reason this happens only with Mitas.
Michelin Anakee Adventure and Metzeler Karoo Street are essentially asphalt tires. Although it is declared as universal, it is marketing, the drawing of the tires is asphalted.
Bridgestone Battlax Adventurecross should be good rubber, but we haven't had time to try it yet, we'll fix it soon, we'll see there.
There are Pirelli and some other types of motorcycle tires, but we haven't used them, so we didn't mention them here.
To sum it up, most of our tours are paved and we use Metzeler Tourance or other paved tires for them. For Altay, Caucasus region tours and several other destinations we use dual use tires. For Magadan, Pamir, Mongolia these are off-road tires.
Last thing we wanted to say - no matter what the newest and best tires you have on the bike, if you don't have enough riding skills it will not help you. So better do more training rather than spend time selecting tires. Skills are primary, tires are secondary.
All the best to you in the coming 2021, hope to see you soon!